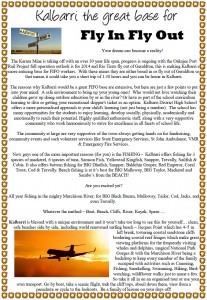 Kalbarri the great base for
Fly In Fly Out
Your dream can become a reality!
The Karara Mine is taking off with an over 30 year life span, progress is ongoing with the Oakajee Port Rail Project full operation outlook is for 2014 and Rio Tinto fly out of Geraldton, this is making Kalbarri a more enticing base for FIFO workers. With these mines they are either based in or fly out of Geraldton so that means it could take you a short trip of 1.30 hours and you can be home in Kalbarri.
The reasons why Kalbarri would be a great FIFO base are extensive, but here are just a few points to put into your mind: A safe environment to bring up your young ones! Who would not love watching their children grow up doing outdoor education by or in the river? Or have as part of the school curriculum learning to dive or getting your recreational skipper's ticket as an option. Kalbarri District High School offers a more personalised approach to your child's learning (not just being a number). The school has many opportunities for the students to enjoy learning, develop socially, physically, academically and emotionally to reach their potential. Highly qualified enthusiastic staff, along with a very supportive community who work harmoniously to strive for excellence in all facets of school life.
The community at large are very supportive of the town always getting hands on for fundraising, community events and such volunteer services like State Emergency Services, St John Ambulance, VMR & Emergency Fire Services.
Now guys one of the more important reasons (for you) is the FISHING – Kalbarri offers fishing for 3 species of mackerel, 6 species of tuna, Samson Fish, Yellowtail Kingfish, Snapper, Trevally, Sailfish & Cobia. It also offers bottom fishing for BIG Dhufish, Snapper, Baldchin Groper, Red Emperor, Coral Trout, Cod & Trevally. Beach fishing is at it's best for BIG Mulloway, BIG Taylor, Mackerel and Sambo's from the BEACH!
Are you excited yet?
All year fishing in the mighty Murchison River; for BIG Black Bream, Mulloway, Tailor, Cod, Jacks, and even Trevally.
Whatever the method – Boat, Beach, Cliffs, River, Kayak, Spear….
Kalbarri is blessed with a unique environment and it won't take too long to see this for yourself… clean, safe beaches side by side, including world renowned surfing beach – Jacques Point which has 4–5 m left break, towering coastal sandstone cliffs bordering coastal reef fringes which make great viewing platforms for the frequently visiting whales and dolphins, magical National Park Gorges & with the Murchison River being a backdrop to keep every member of the family occupied with activities such as Canoeing, Fishing, Snorkelling, Swimming, Hiking, Bird-watching, wildflower walks just to name a few. So take it all in on an organised tour or use your own transport. Go by boat, take a scenic flight, trek the cliff tops, abseil down them, view from a parachute or cycle to the lookouts. Be a family of leisure on your days off!